6-in-1 Foldable Baby Tricycle Toddler Stroller with Adjustable Handle
● 6-in-1 Multifunctional Tricycle: With foldable footrest and detachable push handle, canopy and guardrail, this baby tricycle can be transformed into multiple modes to accompany kids at different stages of growth. And the music box with shining headlight will also bring endless fun to kids.

●
Adjustable Push Handle and Canopy:
Equipped with a canopy which can be adjusted into different angles, the tricycle creates a cozy environment free of heavy sunlight for kids. Moreover, the push handle can be adjusted in three different positions from 34" to 37.5", satisfying various needs of parents and kids.
●
High-Level Security:
This baby tricycle has passed ASTM and CPSIA certification. The 3-point safety belt and the guardrail will effectively keep your baby in right place. And double rear brakes are designed for emergent stop. Furthermore, the front wheel clutch can connect or disconnect the pedals according to your needs.
●
Premium EVA Wheels:
Made of high-grade EVA, the tricycle wheels are not only wearable, but also anti-slip and shock-proof, ensuring the smooth and safe riding. Thus, this baby tricycle adapts to different terrains like asphalt road, boardwalk, brick road, cement road and so on.
●
Portable and Quick-Folding Design:
When not in use, the baby tricycle can be folded into a compact size just with several simple steps which are written on the instruction in detail. Therefore, you can store this tricycle of compact folding size with more convenience. And it also features light weight for easy carrying.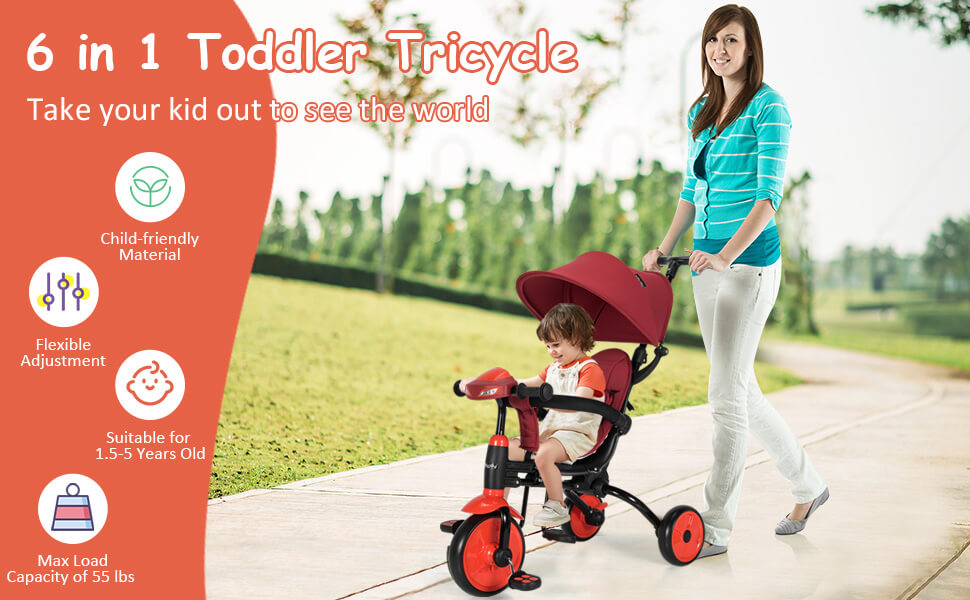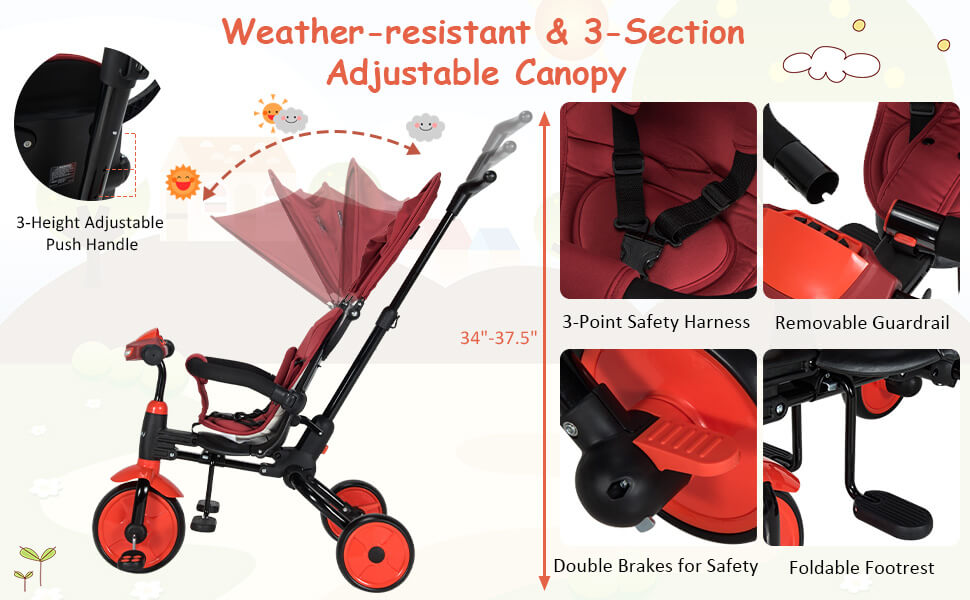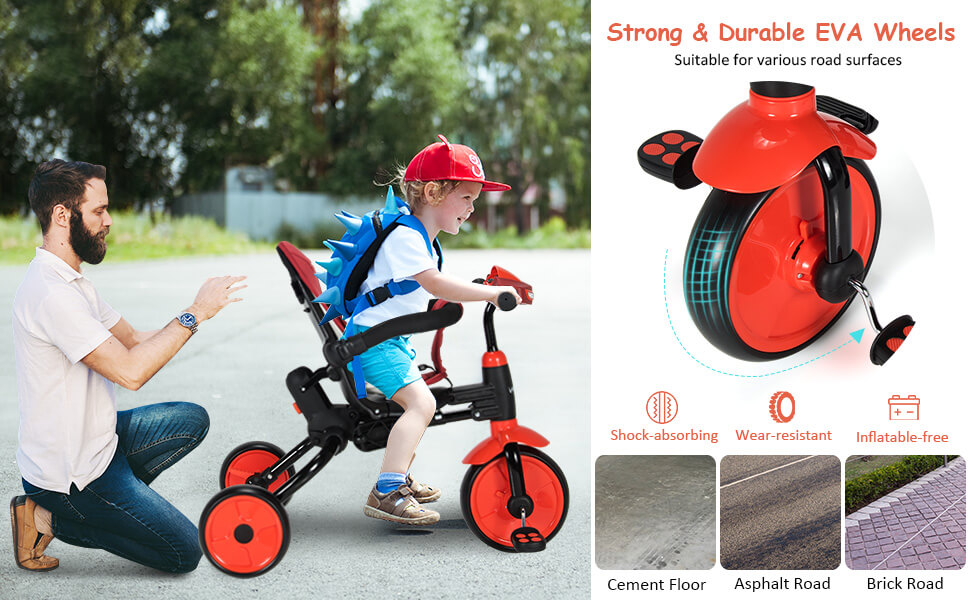 Overview
This 6-in-1 multifunctional tricycle will be a perfect partner of your little one in different growing stages.
The tricycle can be freely changed into different forms with detachable design to meet multiple demands of your kid. And the adjustable canopy gives good protection to kids against heavy sunlight. Moreover, the 3-point safety belt, rear brakes and guardrail ensure higher safety. The anti-slip and shock-proof EVA wheels allow kids to ride on different occasions so that they can explore more fun in the outside world. Other than that, the tricycle is also parent-friendly with the 3-level adjustable push handle and foldable design. If you are looking for a suitable gift for your cute baby on special days, this baby tricycle will be an awesome choice.
If you are looking for a stroller like this, do not hesitate to place an order!
6-in-1 design satisfy different demands of kids and parents

Music box and headlight bring more fun to kids

Adjustable canopy protects kids from heavy sunlight

Push handle with 3 different heights is friendly to parents

Safety design with double rear brakes, safety belt and guardrail

Premium EVA wheels fit well to different kinds of roads

Foldable design makes storage and carrying much easier
Dimension
Folding Dimension
18.5" x 23" x 27.5"(L x W x H)
Overall Dimension
18.5" x 38.5" x 37.5"(L x W x H)
Product Weight
Net Weight
18.5 lbs
Specifications
Applicable Age
1.5-5 Years Old
Colorway
Blue/Red/Gray/Pink
Material
Carbon steel + polyester fabric + spandex + EVA
Weight Capacity
55 lbs
We Offer Various Payment Options For Your Convenience:

We accept Visa, MasterCard, Amex, Discover, JCB, and Diners Club cards. Our payment system is highly secure, certified by PCI-DSS, and uses SSL encryption with MD5 digital signature to protect your final data during the transaction. We recommend using this payment method as it offers the highest level of encryption and security.
Reason for payment failure:
For safety reasons, your payment might be requested 3D verification while processing. It ensures that while paying the order, you are the real cardholder. If you failed to pass the verification, please try another time or use another credit card.
For the payment failure with notice of "Do Not Honor", that means your payment is rejected by your bank, please contact your bank and ask for authorization, after acquiring the authorization, you can try again.

We accept PayPal payment via the "2checkout Payment" gateway, which is a professional famous payment processing company based in the USA. SteAnny Baby Shop is verified under their high safety standard.
Supportable for PayPal payment for the account holders and guest checkout, customers are able to pay by PayPal although they don't own an account.
3. Payoneer Credit Card Payment
Supporting Visa, MasterCard, and Amex.
Payoneer Global Inc., an American financial services company, specializes in online money transfers, digital payments, and working capital solutions. Leveraging cutting-edge technology, Payoneer is establishing itself as a premier provider of digital financial services.

Should you have any other doubt, please feel free to contact us by email: [email protected].
Thank you for choosing SteAnny Baby Shop! Please read the following Q&A to get to know our shipping policies. Should you have any other questions, please feel free to get in touch with us through various ways on the website.
Q: How long will my order be shipped and what's the time of arrival?

A: Overseas warehouse orders will be shipped within 1 working day after receiving your payment, and China orders will be shipped within 2-3 working days after receiving your payment. We support overseas warehouse delivery and have multiple warehouses in the United States, France, Spain, Australia, etc. Shipping time is 3-7 days. Shipping in different countries has different timelines.
U.S. warehouses can only ship to the U.S.
Shipping from Australia, Lead time 5-7 days.
Australian warehouses can only ship to Australia
Shipping from European, lead time 3-7 days.
Europe warehouses can only be shipped to European countries
Shipping from China: Japan, Thailand, and Korea lead time 20-30 days、Australia, US lead time 60-90 days.
China warehouses can be shipped to the United States, Australia, Japan, South Korea, and Thailand. (The logistics and transportation of China warehouses take a long time, please pay attention)
Affected by Covid-19, there will be some delays in the delivery.


Q: Which shipping company do you use?

A: UPS, FedEx, and GLS are our priority choices. They are fast and safe.


Q: Who should take charge of the customs taxes for the parcel?

A: Customers should take responsibility for the importing taxes charged by your local customs. Mostly this happens seldomly. We will declare a low value in the shipping invoice inside the parcel. Customs regulations are various in different countries. If your local customs requires a tax no. in clearing the parcel, please send us the no. before we send the parcel, we will declare your tax no. inside the invoice.


Q: How do I track my parcel?

A: We will update you on the tracking no. in the order situation of the website after the shipment is affected. Meanwhile, you will be notified by email via the website automatic system. As soon as you got the tracking no., you may track it on the website: Http://www.17track.net/.


Q: Why I can't get the tracking information by using the no. given from you on the tracking website?
A: While tracking no. provided, it will take about 1-2 days before appearing tracking status on the website. The processing procedure will take 24-48 hours by the shipping agent.

Q: Can I change the items if I don't like them after the reception?

A: Please send your order and consult customer service, if it can be exchanged, buyers should agree with these:

Make sure that items are not used or worn, and are in the same condition as the statue when you receive it.

Pay for the delivery charges of returning the parcel.

Notify us before returning the parcel.



Q: Any extra charges for return/exchange?

A: Absolutely no extra charges like dealing, processing, etc., return or exchange is free if your received products with flaws.


Q: What is your service areas/shipping countries:
We Provide Shipments to the United States, Europe, Asia Countries, and Australia. The detailed supported regions are below:
Our stocking warehouse is located in 4 countries: USA, Spain, France, and Australia.


1. SHIPPING SUPPORTABLE TO THE FOLLOWING STATES OF THE USA:
(Free Shipping)
Alabama、Arizona、Arkansas、California、Colorado、Connecticut、Delaware、Washington D.C.、Micronesia、Florida、Idaho、Illinois、Indiana、Iowa、Kansas、Kentucky、Louisiana、Maine、Maryland、Massachusetts、Michigan、Minnesota、Mississippi、Missouri、Montana、Nebraska、Nevada、New Hampshire、New Jersey、New Mexico、New York、North Carolina、North Dakota、State of Ohio、Oklahoma、Oregon、Pennsylvania、South Carolina、South Dakota、Tennessee、Texas、Utah、Vermont、Virginia、Washington、West Virginia、Wisconsin、Wyoming.
Following States of the USA are not available for shipping: the State of Alaska、The Territory of Guam、Hawaii State、The Republic of Palau、The Commonwealth of Puerto Rico、Rhode Island、The United States Virgin Islands、American Armed Forces、European Armed Forces、Pacific Armed Forces.
2. SUPPORTABLE SHIPPING COUNTRIES IN EUROPE:
Free shipping to the below 19 countries:
Denmark、Bulgaria、Hungary、Luxembourg、Austria、Germany、Italy、Norway、The Czech Republic、Monaco、Slovakia、Slovenia、
Belgium、France、Poland、Romania、 the Netherlands、Portugal、Spain.
For the shipping to other countries in Europe, please discuss with customer service for inquiring about the freight.
3. SHIPPING STATES OF AUSTRALIA:
The Following Areas of Australia will have extra $20.00 shipping freight:
Australian Capital Territory、New South Wales、South Australia、Tasmania、Victoria
The Following Areas of Australia will have extra $30.00 shipping freight:
Western Australia、Queensland.
The Following Areas of Australia will have extra $40.00 shipping freight:
Northern Territory
Q. What if I inputted the wrong shipping address?
A: Customers are taking responsibility for the declaration of the shipping address. Your parcel will be sent to the address which is the same as per the information filled in the order details.
If you used the wrong address, please inform us before shipping, and we can correct the shipping address.
We are not taking responsibility for the loss of the parcel due to the wrong shipping address offered by the customer.
Please read the exchange & return policy carefully before placing the order with SteAnny. It's very important since the large parcel of baby stroller's shipping costs high expenses!
Threshold For Exchange and Return
Within 15 days after receipt of the parcel(counting starts from the date of delivery), customers may submit an exchange or return back to SteAnny.
SteAnny doesn't accept any exchange or return requests for any parcels which are delivered after 15 days.
Exchange Policy
Customers are eligible to submit an exchange request under the conditions below:
Within 15 days of the receipt of the parcel.
Products should be unused and brand new as per the status of the arrival of the parcel.
The packing carton should be in the same condition as how it arrived.
We accept the exchange of products upon the above conditions, When you decide to give an exchange please send us an email at
[email protected]
, attach 1-2 photos showing the condition of the parcel, and remind us of your order number.
After reviewing your email, we will send an airway bill to eligible return requests by email. Please send the parcel back by using the air waybill.
Customers need to pay the shipping fees for the shipping freight for the second time delivery of the exchange parcel.
If the exchange requests are not eligible, we will refuse and notify customers by email with detailed explanations.
Return Policy
When you decide to give a return for the products, please send us an email at [email protected], attach 2-3 photos showing the condition of the parcels and products, and remind us of your order number.
SteAnny will review the product conditions and respond back by email within 24-48 hours.
Eligible situations for returning:
Customers receive the wrong product which is different from the ordered items. This is a rare situation but it might occur.
Receive products in bad condition, i.e. scratched parts, ruined parts, stains in a large area, or other severe conditions that cause non-functional of products.
SteAnny will send air waybill to customers and the customer doesn't have to pay any return charges. A full refund will be arranged after we receive the return parcel and check the products by confirming that no parts are lost.
Upon receipt of the return air waybill, customers need to pack the parcel and send the parcel to your close office of shipping agents. The freight was prepaid already, customers won't bear any return fees in this situation.
Customers are allowed to return the parcel without any special reason. You may submit a return within 15 days after the arrival of the parcel(counting starts from the date of delivery).
Please send us an email at [email protected], attach 2-3 photos showing the condition of the parcels and products, and remind us of your order number. In this situation, customers need to pay for the shipping and return of parcels.
Make sure that all parts brochures and tags are sent together inside the parcel, please!
SteAnny only accepts return parcels that meet the above clauses. We don't accept any returns for worn, used products. We will reject the returns if customers are unable to prove that.
Notice before return or exchange request submission:
Please note that the stroller products are packed in high-volume cartons. It's inevitable for the crushing in delivery. Thus tiny scratching and crease might happen. These shouldn't be recognized as the flaws of the products.
Important notice:
Do not send any parcels without acquiring our airway bill in advance.
Do not send parcels back to the address of the parcel sent from. It's an address that is unable to accept any parcels.

Should you have any other doubt, please feel free to contact us by email: [email protected].
Last update: 5th, Sep. 2023
SteAnny Baby Shop