Steanny 5-IN-1 Baby Stroller Travel System - Multifunction Pram With Car Seat and Base
Welcome to the SteAnny Baby Shop! We are delighted to bring you a fantastic solution for your baby's travel needs. Introducing our 5-in-1 Baby Stroller Travel System, a versatile and convenient set that offers comfort, safety, and style.
Key Features:
5-in-1 Baby Travel System: This multifunctional baby stroller can be used alone or in combination, allowing you to adjust the angle to accommodate your baby's sitting, half-lying, or lying positions. The reversible design allows your baby to face you or explore the world.
Safety Guaranteed: Rest assured that our product has undergone rigorous testing and meets the highest safety standards. It is engineered and crash-tested to exceed US standard FMVSS213 S5.1, ASTM F833-21, 16 CFR, ASTM F2050, and CPSIA regulations, ensuring your baby's safety during every journey.
Sturdy Construction: The seat features a one-piece injection frame and EPE cushioning sponge material, providing optimal protection for your baby. The three-dimensional sleeping basket is made of polyester fabric, offering a spacious and comfortable environment with excellent air circulation for year-round comfort. The aluminum alloy frame ensures stability and smooth maneuverability, and the one-hand, one-button folding mechanism allows for easy operation.
Easy Installation: Enjoy the hassle-free installation and folding with our user-friendly design. The stroller can be set up within minutes, making it convenient for your on-the-go lifestyle.
Rubber Tire Wheel: The non-inflatable rubber tires provide a silent and smooth cruising experience while offering excellent shock absorption for a comfortable ride on various terrains.
Car Seat + Isofix Base: The included baby safety seat features a wraparound space design and a 5-point safety belt for enhanced protection. It offers adjustable seating and reclining positions and can be used independently or in combination with the stroller or base. The Isofix interface base utilizes the Z-series stabilization system with support legs and anti-turning plates, providing secure installation and reducing any sense of shaking.
Additional Product Features: For more information and detailed product features, please refer to the descriptions provided in the accompanying photos.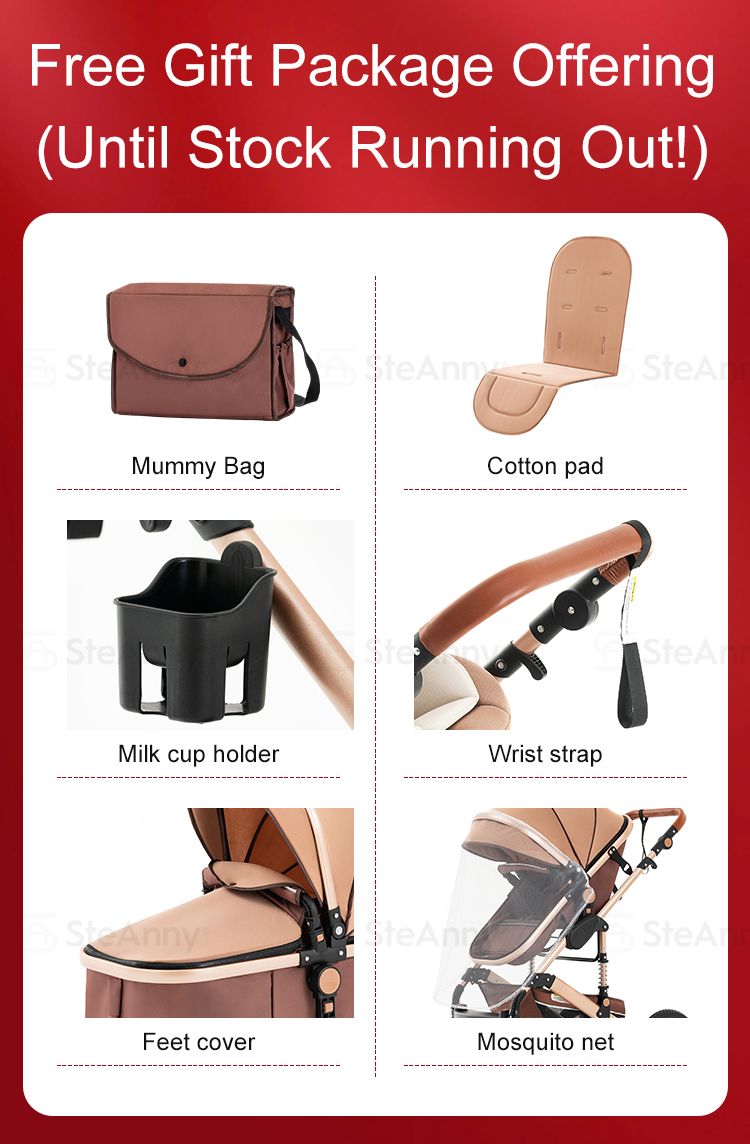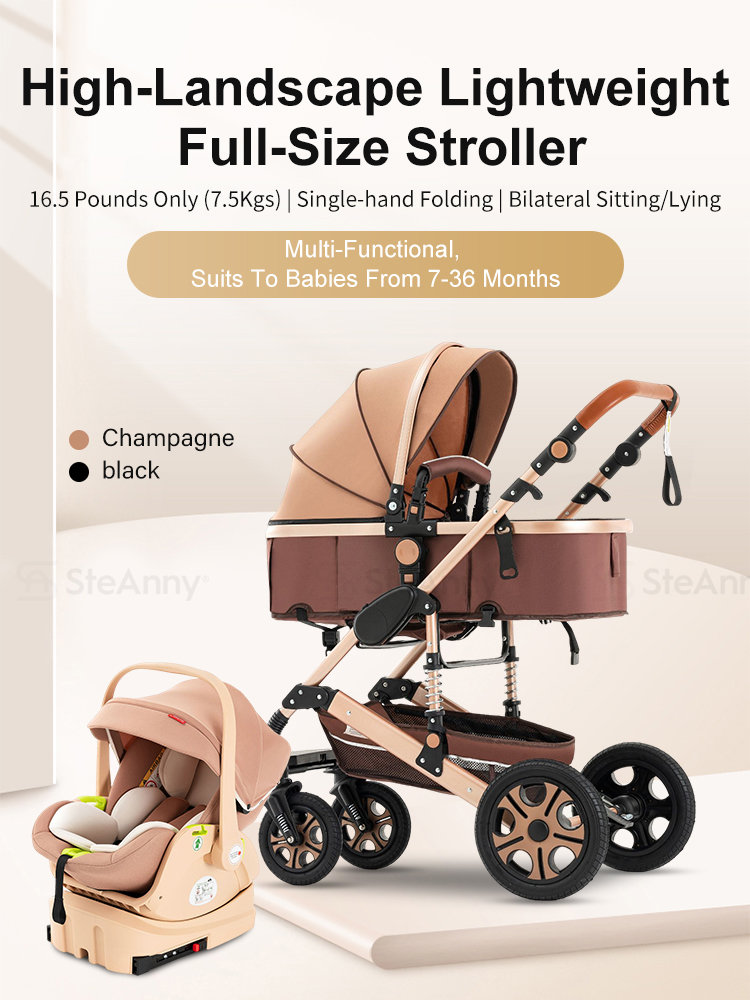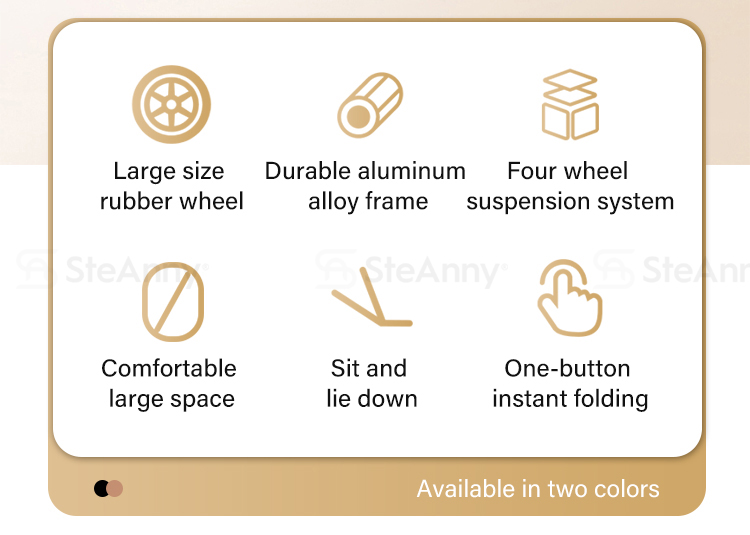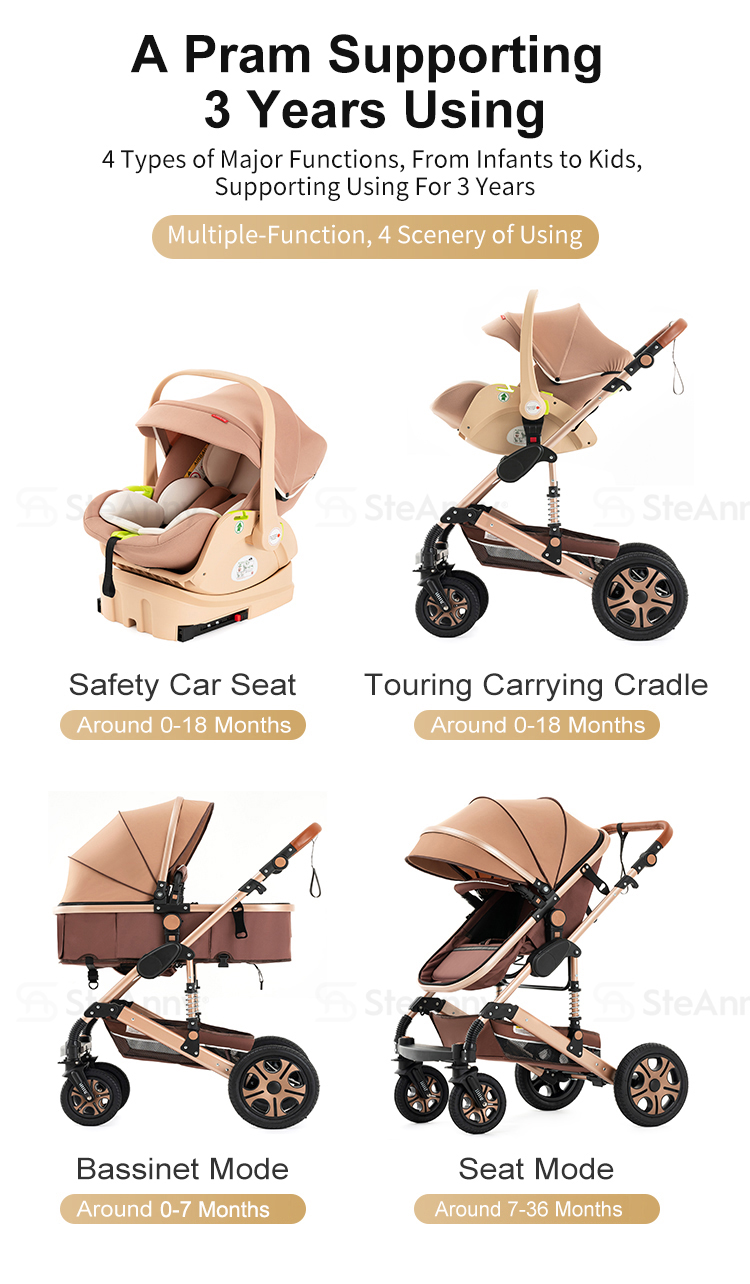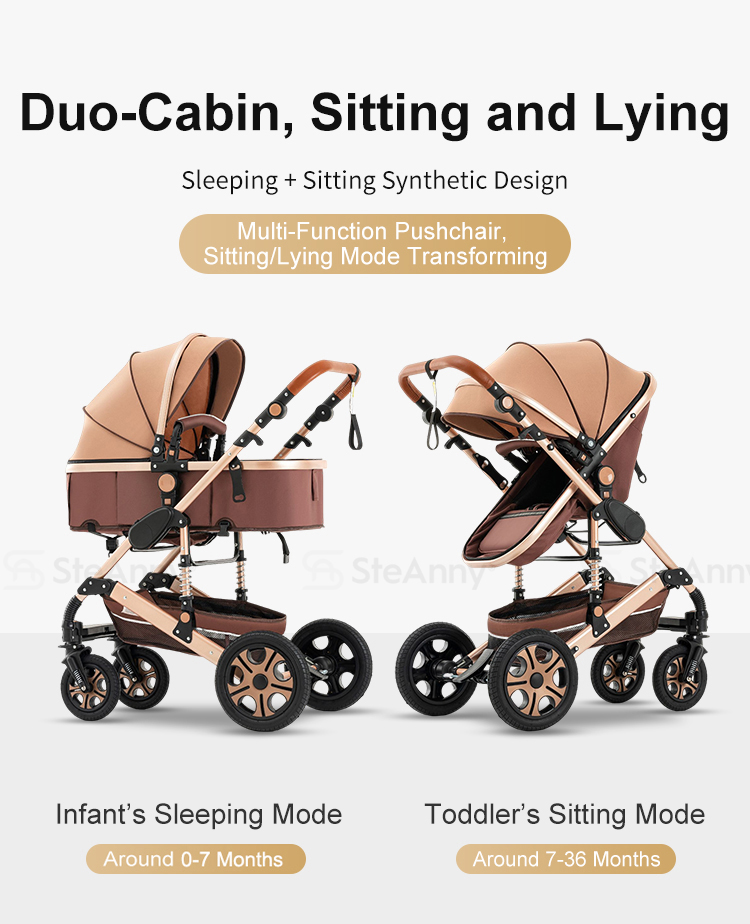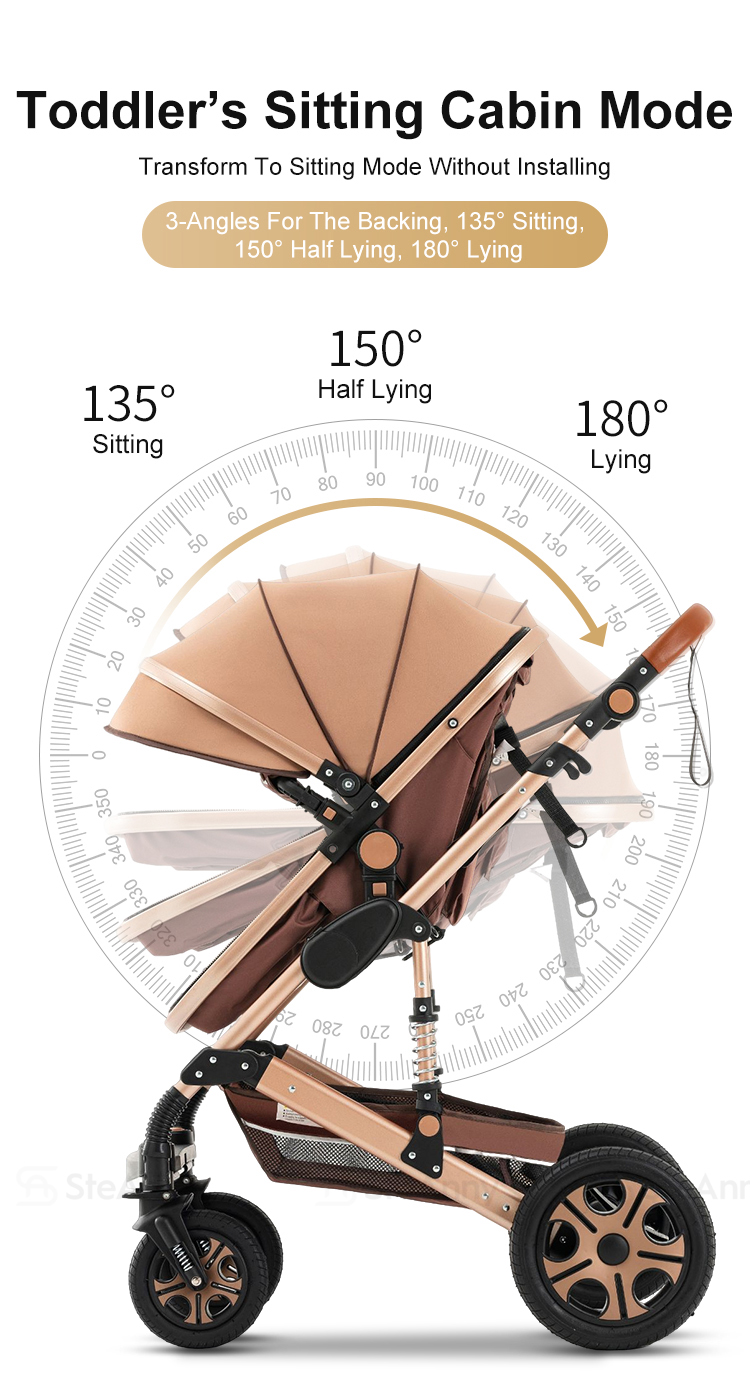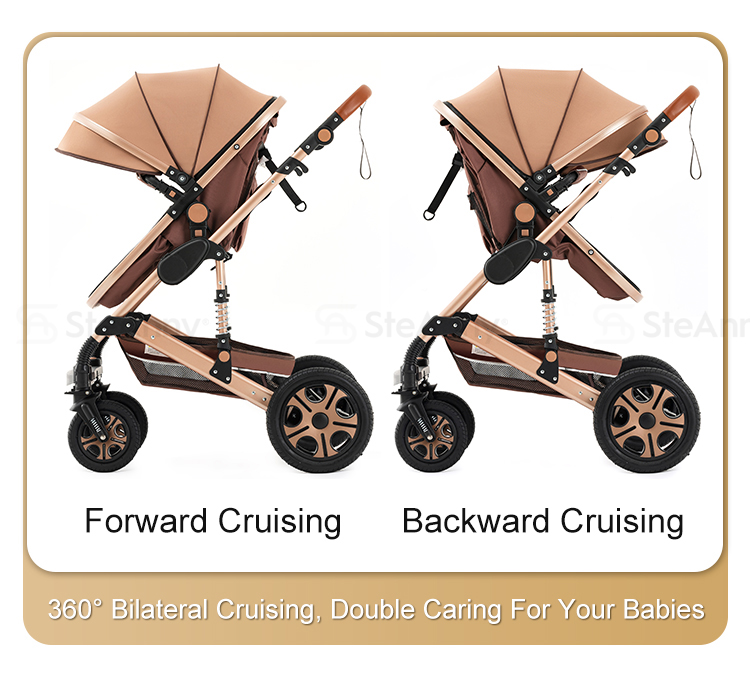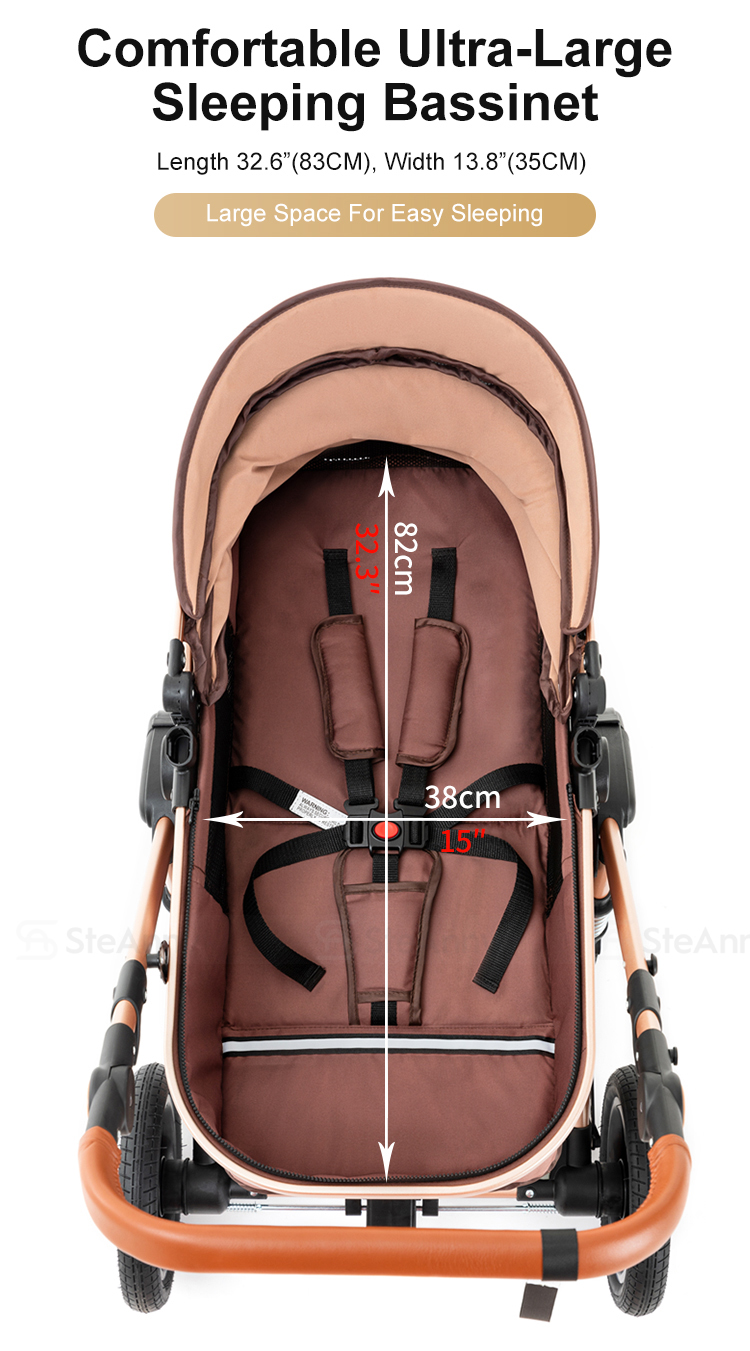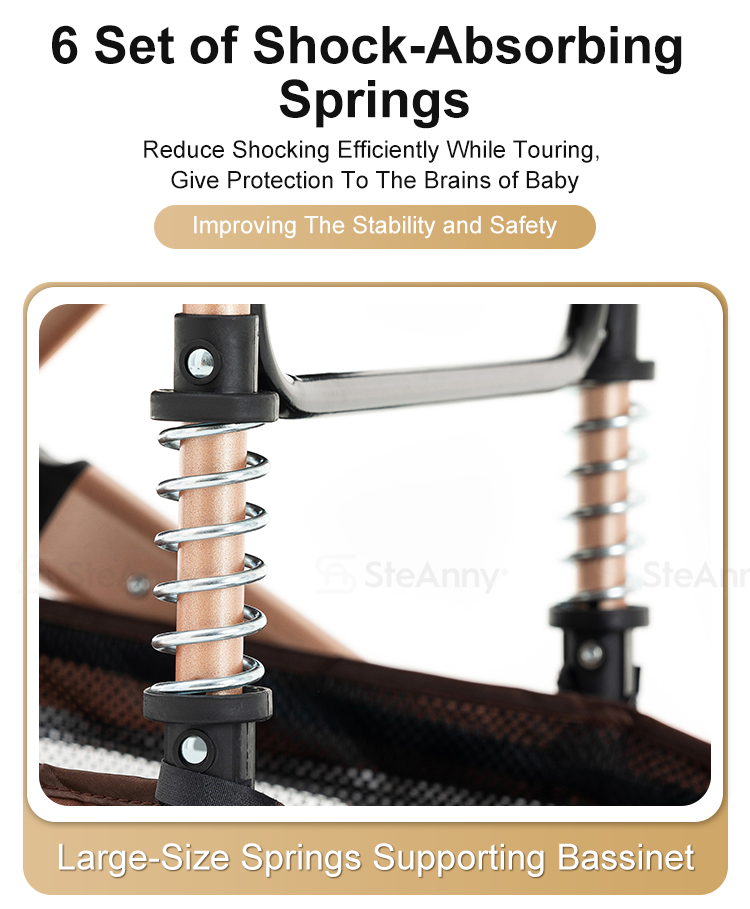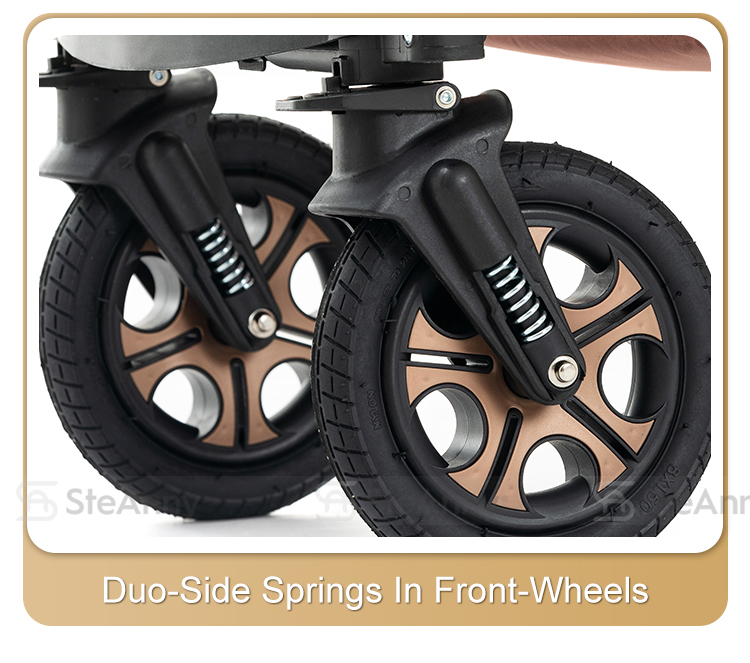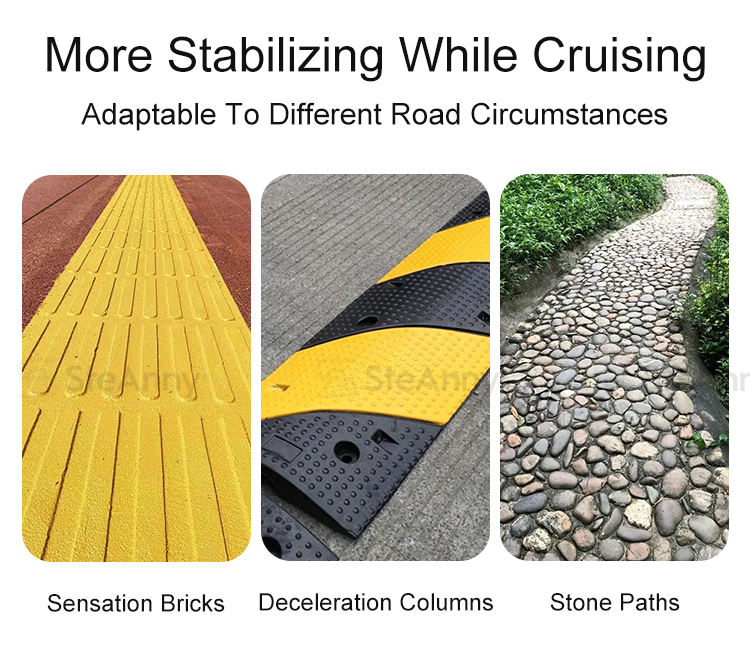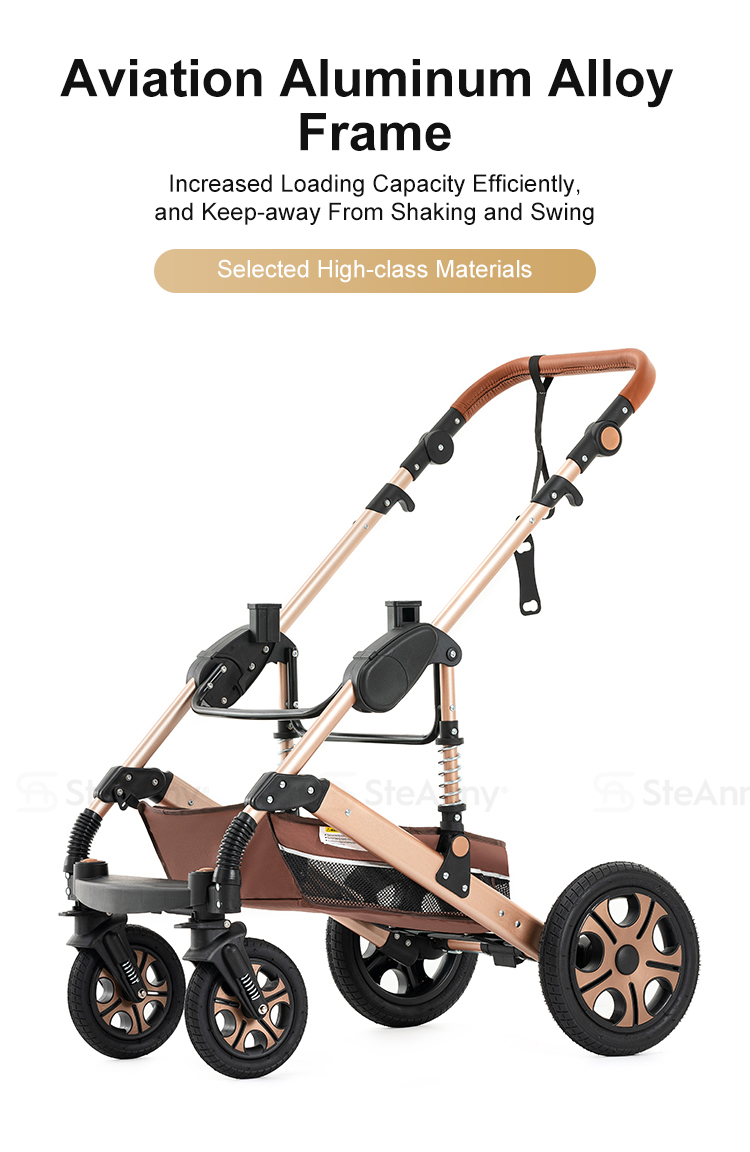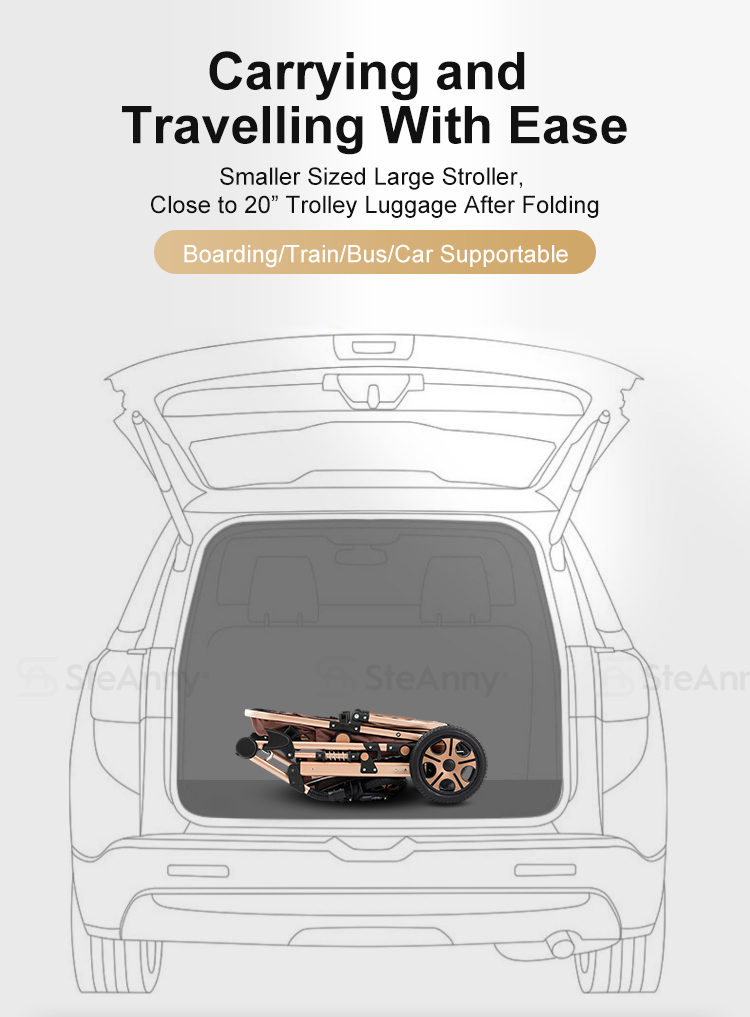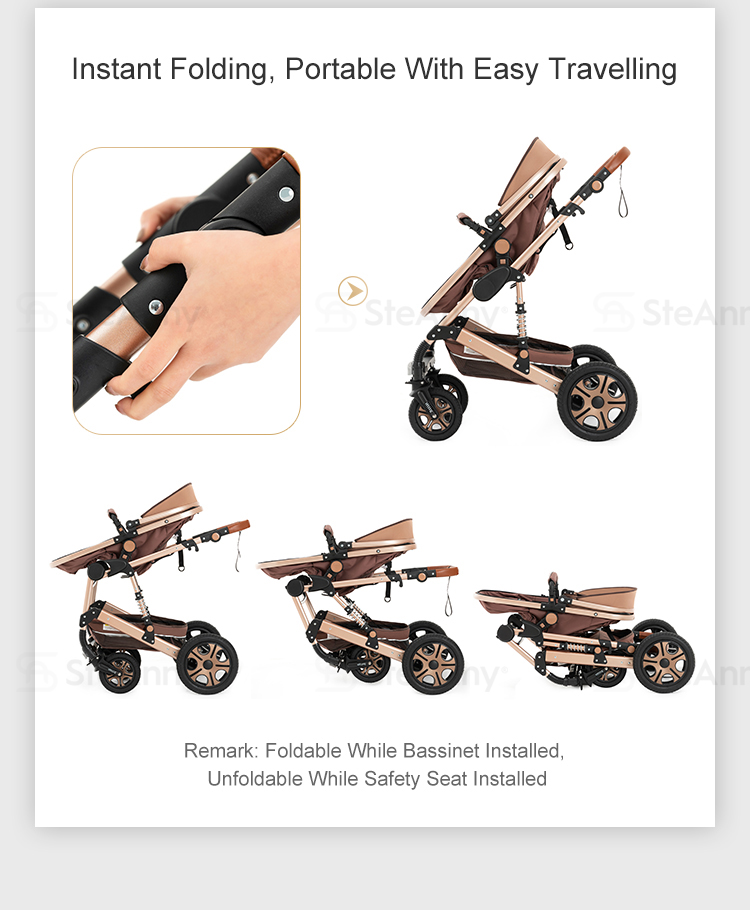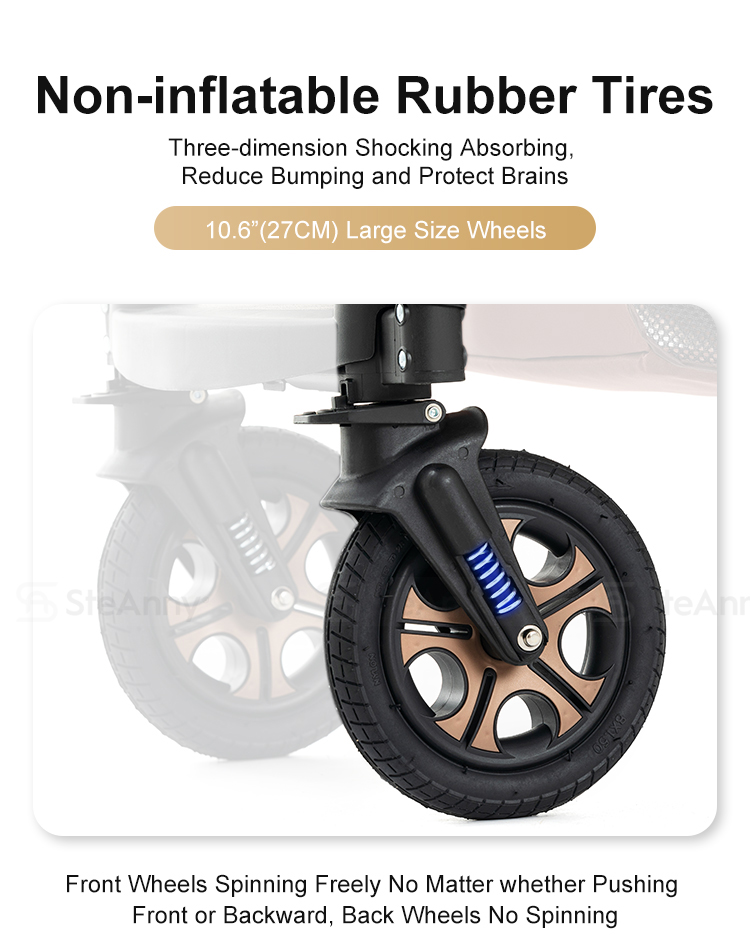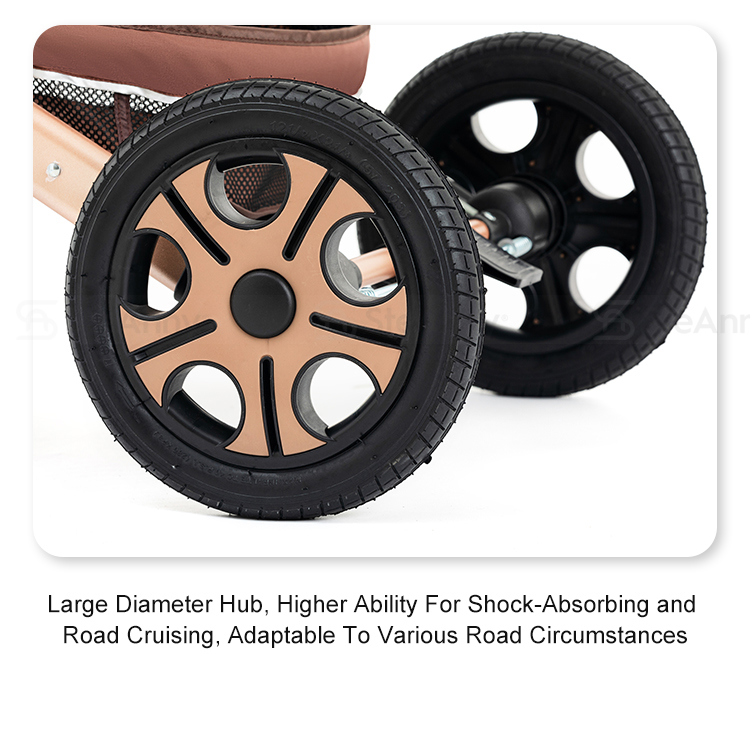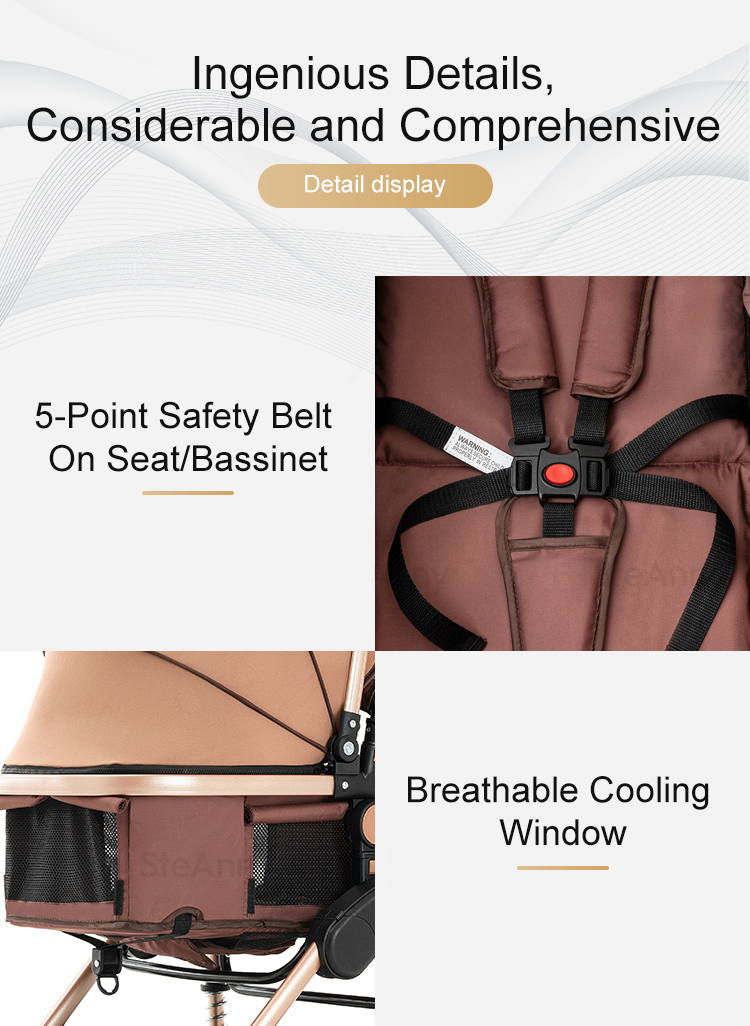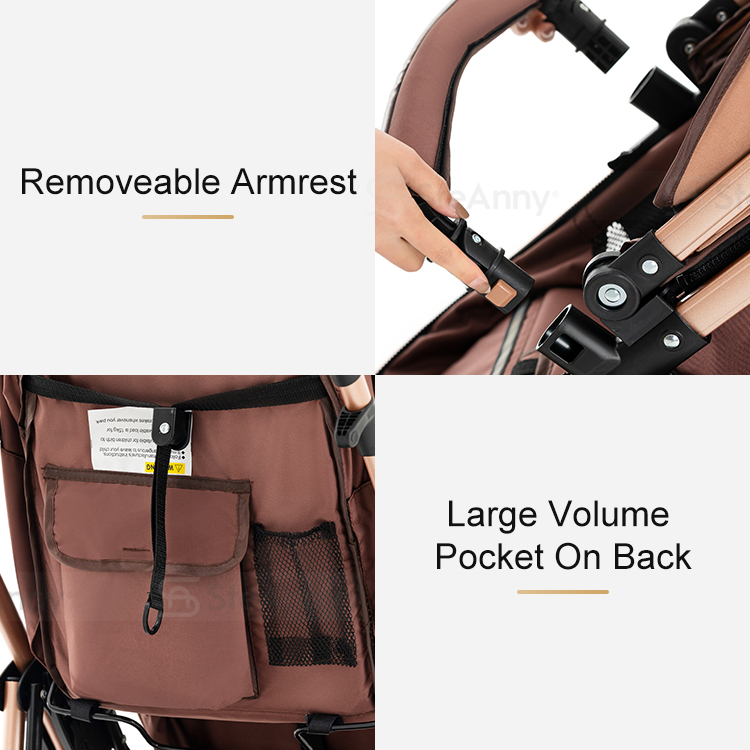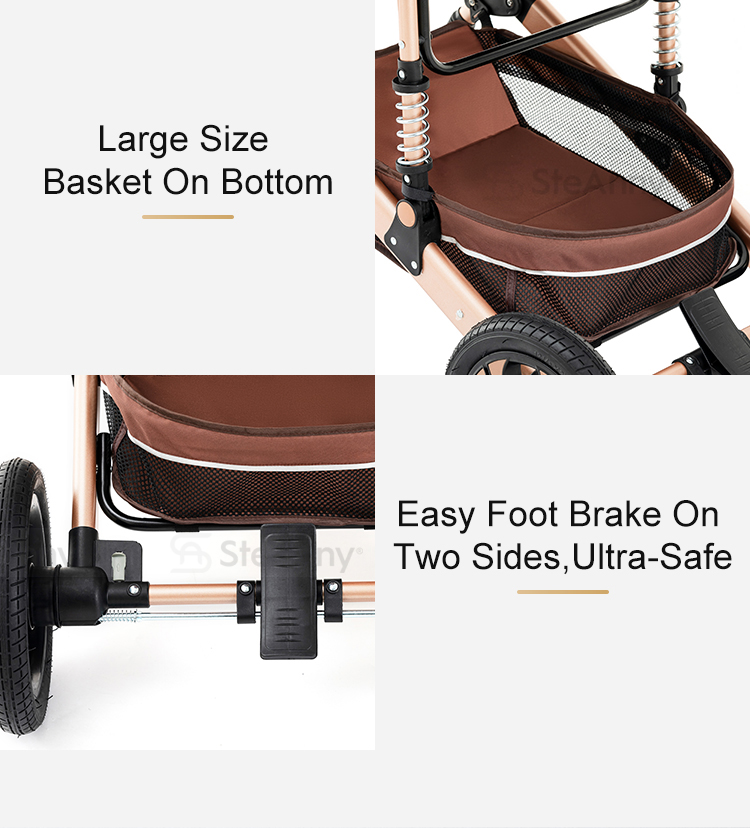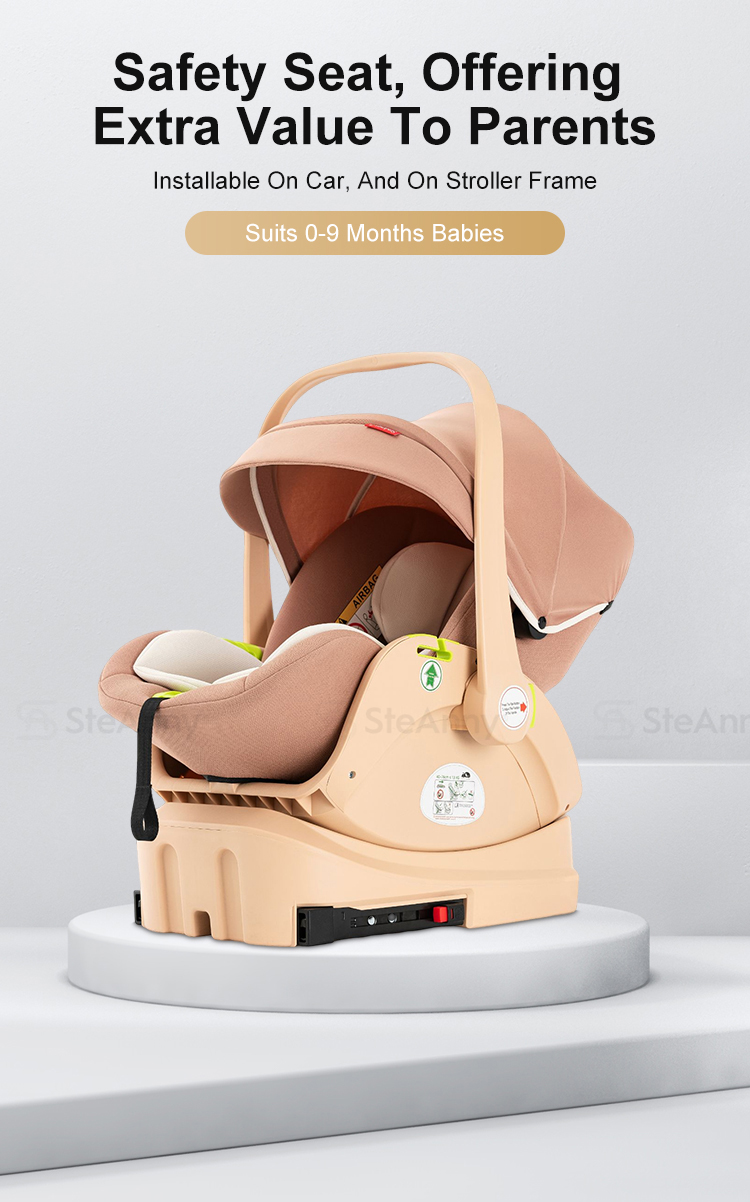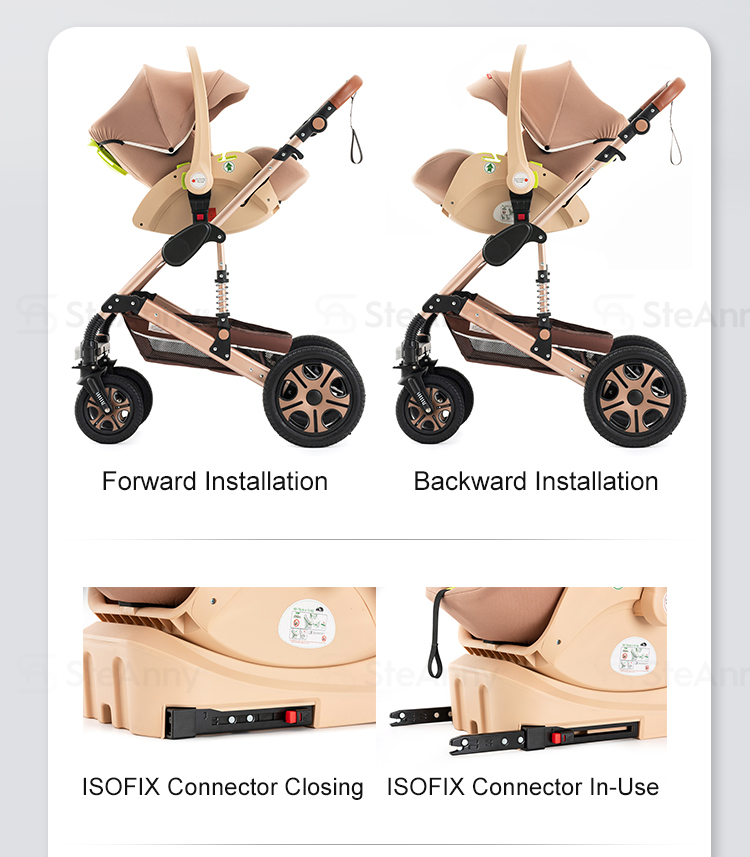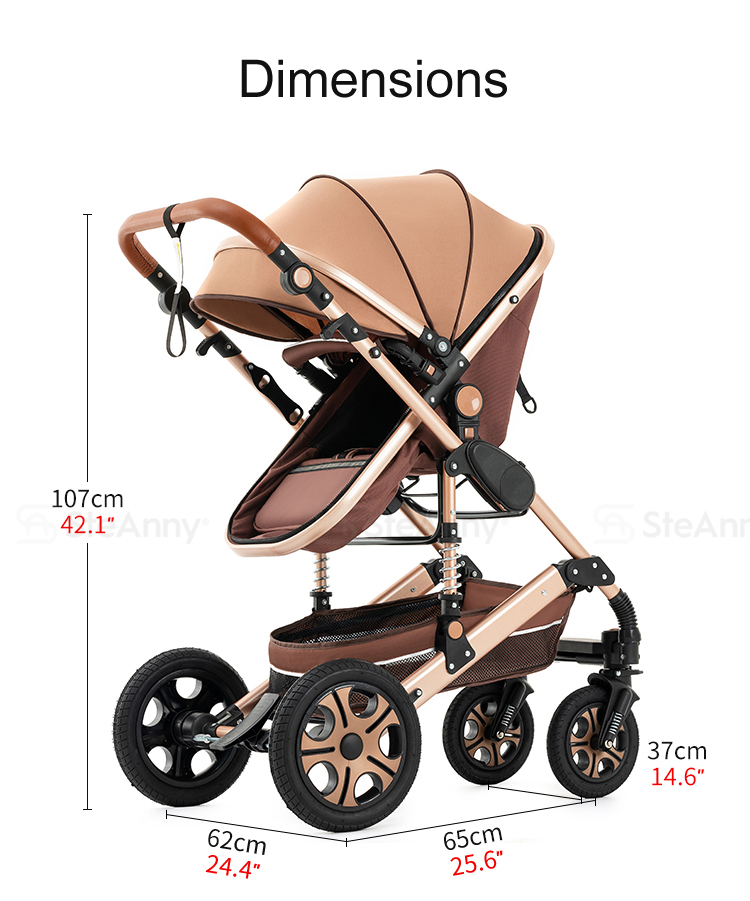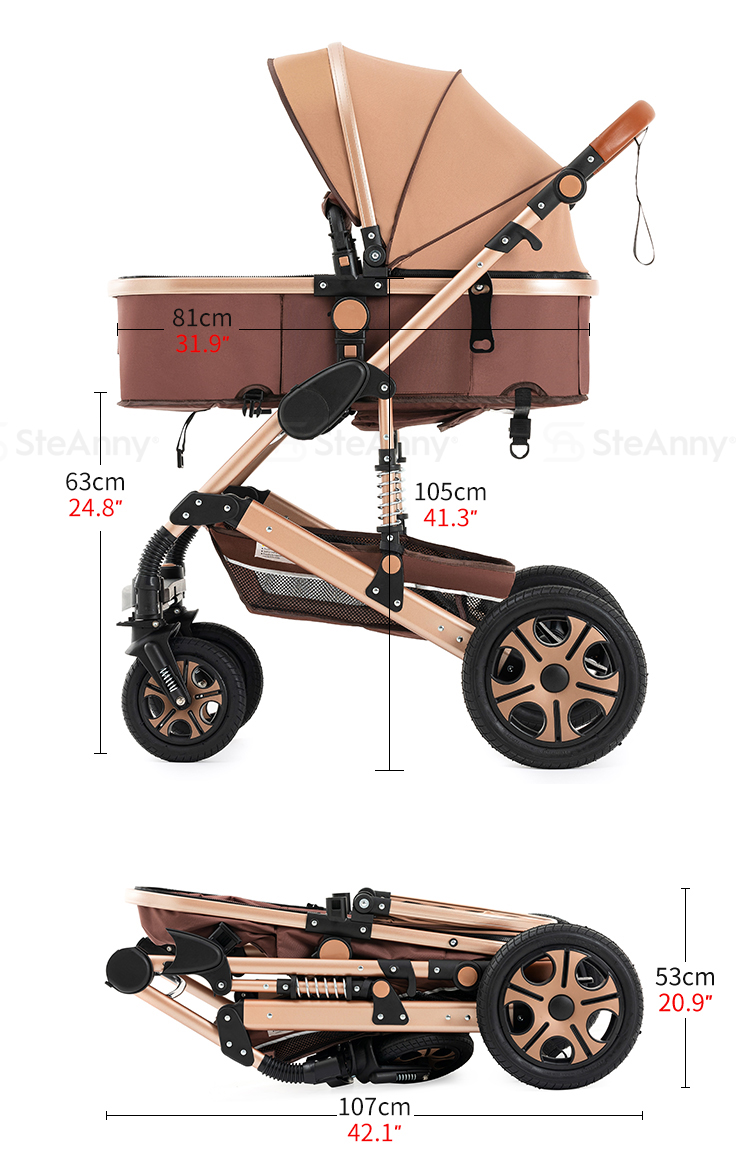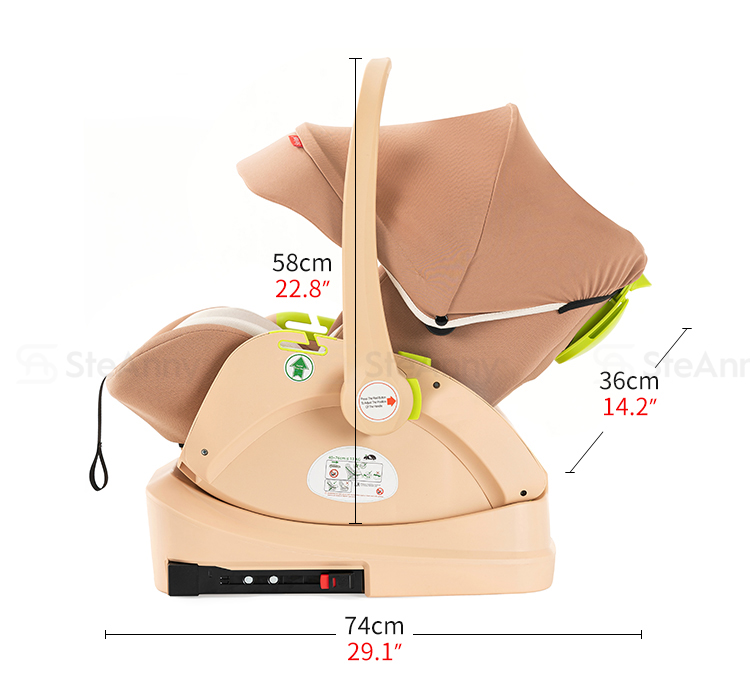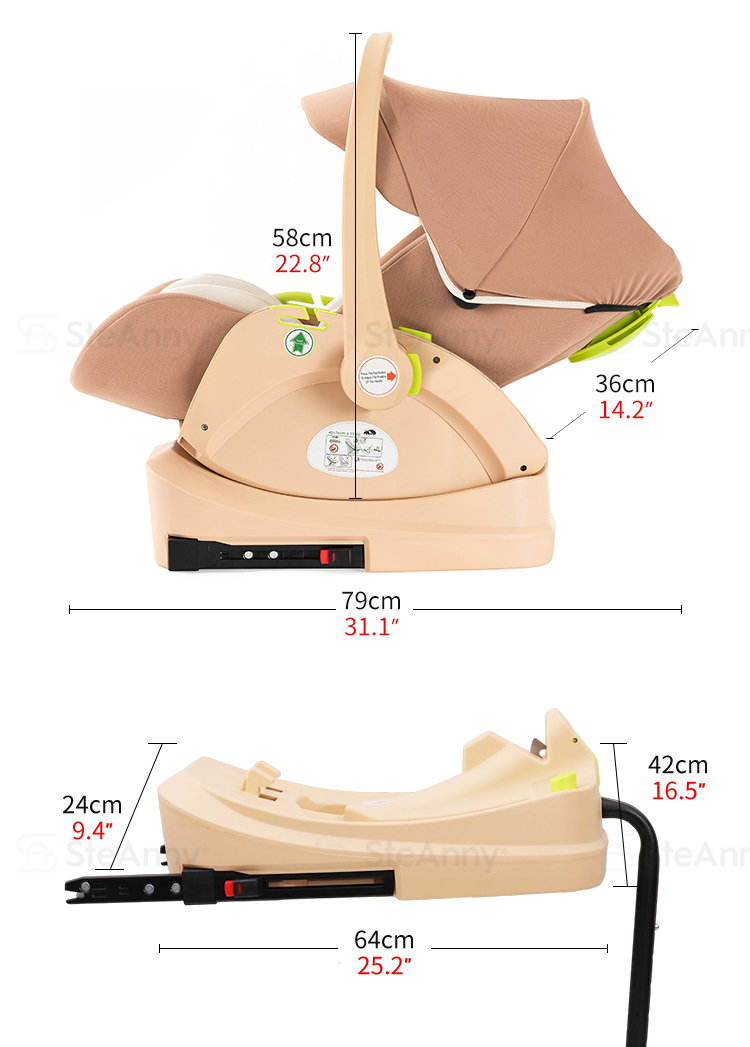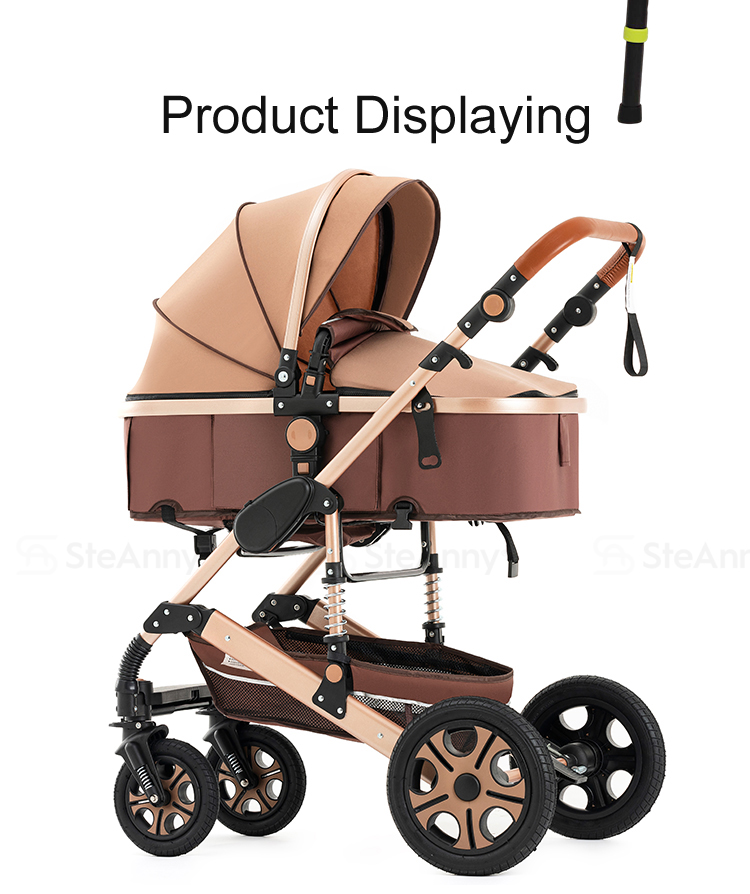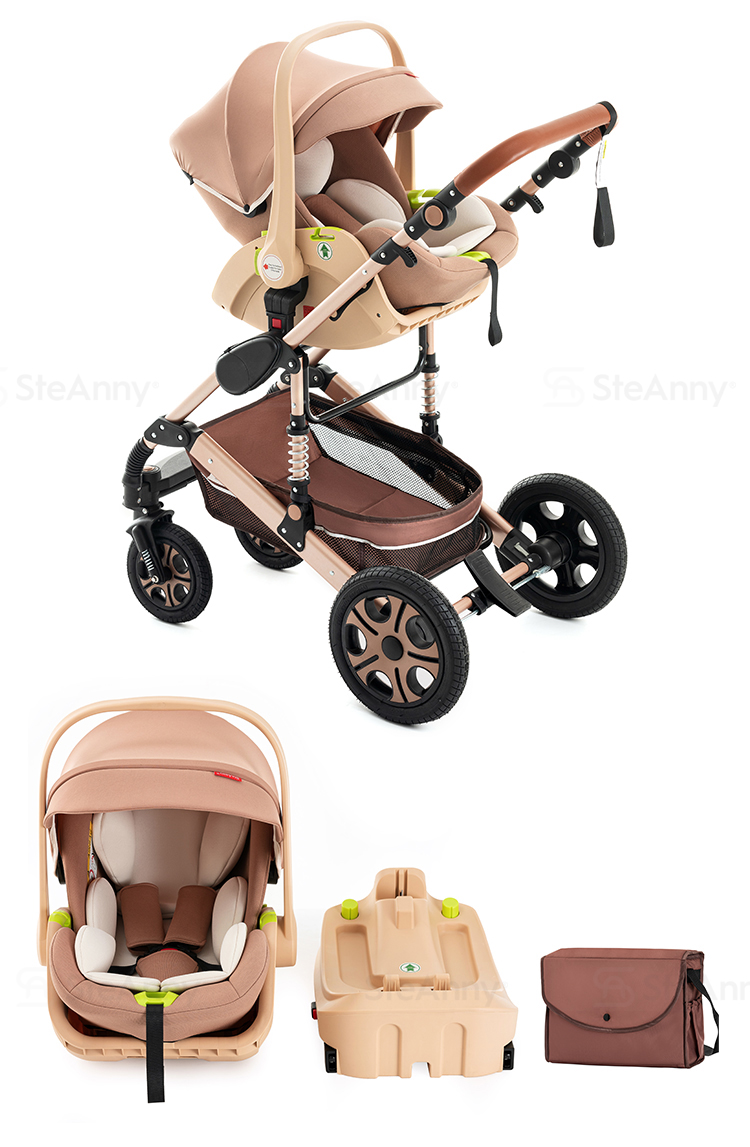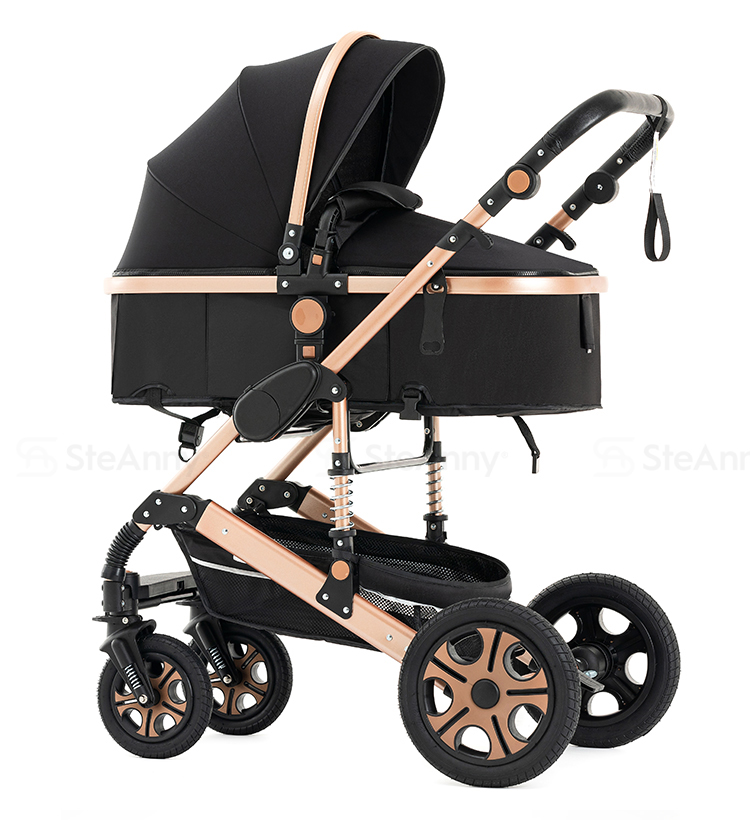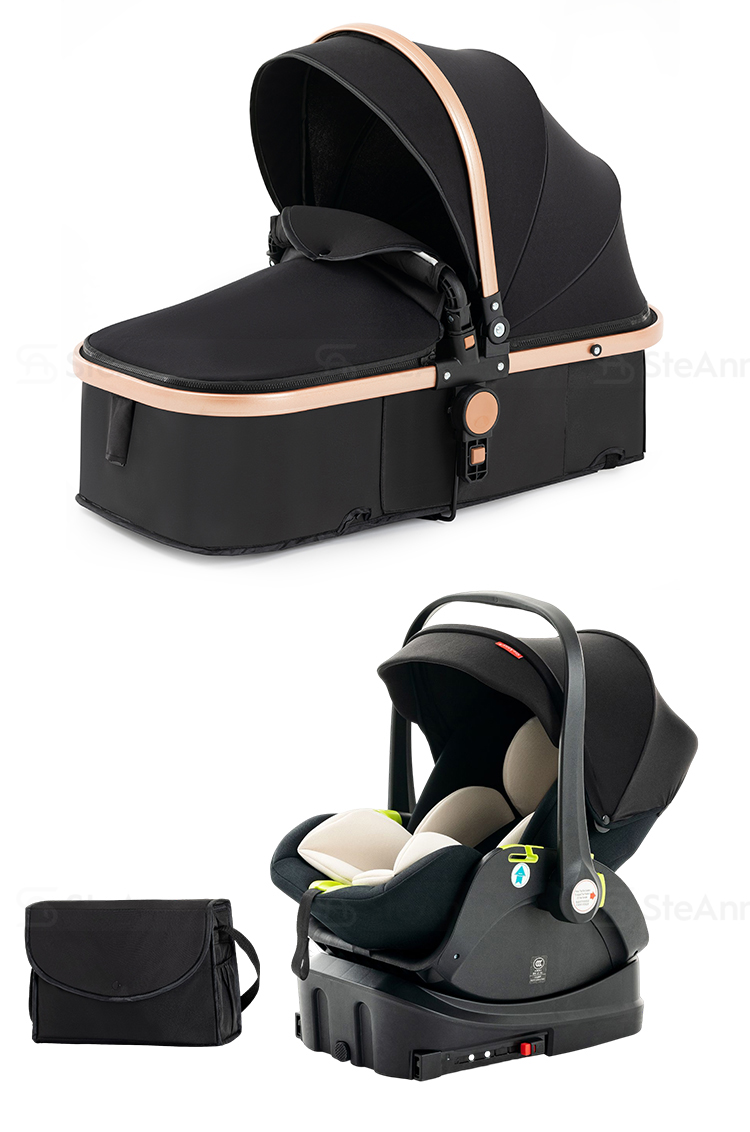 Basic Information

Gifts:Mommy bag+Foot cover + Wrist strap + Mosquito net + Baby seat cushion + Sun visor + Summer mat.
Type:2 in 1 high landscape stroller + infant car seat ·
Applicable age: 0-3 years old
Inner width of sleeping basket:38cm
Inner length of sleeping basket: 82cm
Sleeping basket off the ground: 63cm
Cart weight: about 11.5kg
Push handle height: 83~113cm (Multiple adjustable)
Expanded size: 87*60*107cm
Folded size: 53*62*107cm
Reminder: Manual measurement, the data may have 1-2cm error, please understand
Dimension
Folding Dimension
Height: 20.9" (53CM) Length: 42.1" (107CM) Width: 24.4" (62CM)
Overall Dimension
Height: 42.1" (107CM) Length: 25.6" (65CM) Width: 24.4" (62CM)
Packaging Details
Package Content
[1×Luxury 3-1 Baby Stroller ] [1×Car Seat ] [1x Car Seat Base ] [1×Mommy bag(Free gift) ] [1×Cup Houlder(Free gift) ] [1×Comfy Cushion(Free gift) ] [1×Mosquito Net (Free gift) ] [1×Cooling Mat (Free gift) ] [1×Safety Wrist Band(Free gift) ] [1×Foot Cover/Comforter(Free gift) ] --- Remark: *Limited Stock For 6 Pcs Gift Pack, Given Free Until Stock Running Out. * Car seat base is shipped in a separate parcel.
Product Weight
Net Weight
25.35 Pounds(11.5 Kgs) for the stroller set (frame + bassinet + 4 wheels). 5.9 Pounds(2.7 Kgs) For the Car Seat
Specifications
Colorway
Black, Khaki
Material
Aluminum Frame, Nylon, Canvas.
We Offer Various Payment Options For Your Convenience:

We accept Visa, MasterCard, Amex, Discover, JCB, and Diners Club cards. Our payment system is highly secure, certified by PCI-DSS, and uses SSL encryption with MD5 digital signature to protect your final data during the transaction. We recommend using this payment method as it offers the highest level of encryption and security.
Reason for payment failure:
For safety reasons, your payment might be requested 3D verification while processing. It ensures that while paying the order, you are the real cardholder. If you failed to pass the verification, please try another time or use another credit card.
For the payment failure with notice of "Do Not Honor", that means your payment is rejected by your bank, please contact your bank and ask for authorization, after acquiring the authorization, you can try again.

We accept PayPal payment via the "2checkout Payment" gateway, which is a professional famous payment processing company based in the USA. SteAnny Baby Shop is verified under their high safety standard.
Supportable for PayPal payment for the account holders and guest checkout, customers are able to pay by PayPal although they don't own an account.
3. Payoneer Credit Card Payment
Supporting Visa, MasterCard, and Amex.
Payoneer Global Inc., an American financial services company, specializes in online money transfers, digital payments, and working capital solutions. Leveraging cutting-edge technology, Payoneer is establishing itself as a premier provider of digital financial services.

Should you have any other doubt, please feel free to contact us by email: [email protected].
Thank you for choosing SteAnny Baby Shop! Please read the following Q&A to get to know our shipping policies. Should you have any other questions, please feel free to get in touch with us through various ways on the website.
Q: How long will my order be shipped and what's the time of arrival?

A: Overseas warehouse orders will be shipped within 1 working day after receiving your payment, and China orders will be shipped within 2-3 working days after receiving your payment. We support overseas warehouse delivery and have multiple warehouses in the United States, France, Spain, Australia, etc. Shipping time is 3-7 days. Shipping in different countries has different timelines.
U.S. warehouses can only ship to the U.S.
Shipping from Australia, Lead time 5-7 days.
Australian warehouses can only ship to Australia
Shipping from European, lead time 3-7 days.
Europe warehouses can only be shipped to European countries
Shipping from China: Japan, Thailand, and Korea lead time 20-30 days、Australia, US lead time 60-90 days.
China warehouses can be shipped to the United States, Australia, Japan, South Korea, and Thailand. (The logistics and transportation of China warehouses take a long time, please pay attention)
Affected by Covid-19, there will be some delays in the delivery.


Q: Which shipping company do you use?

A: UPS, FedEx, and GLS are our priority choices. They are fast and safe.


Q: Who should take charge of the customs taxes for the parcel?

A: Customers should take responsibility for the importing taxes charged by your local customs. Mostly this happens seldomly. We will declare a low value in the shipping invoice inside the parcel. Customs regulations are various in different countries. If your local customs requires a tax no. in clearing the parcel, please send us the no. before we send the parcel, we will declare your tax no. inside the invoice.


Q: How do I track my parcel?

A: We will update you on the tracking no. in the order situation of the website after the shipment is affected. Meanwhile, you will be notified by email via the website automatic system. As soon as you got the tracking no., you may track it on the website: Http://www.17track.net/.


Q: Why I can't get the tracking information by using the no. given from you on the tracking website?
A: While tracking no. provided, it will take about 1-2 days before appearing tracking status on the website. The processing procedure will take 24-48 hours by the shipping agent.

Q: Can I change the items if I don't like them after the reception?

A: Please send your order and consult customer service, if it can be exchanged, buyers should agree with these:

Make sure that items are not used or worn, and are in the same condition as the statue when you receive it.

Pay for the delivery charges of returning the parcel.

Notify us before returning the parcel.



Q: Any extra charges for return/exchange?

A: Absolutely no extra charges like dealing, processing, etc., return or exchange is free if your received products with flaws.


Q: What is your service areas/shipping countries:
We Provide Shipments to the United States, Europe, Asia Countries, and Australia. The detailed supported regions are below:
Our stocking warehouse is located in 4 countries: USA, Spain, France, and Australia.


1. SHIPPING SUPPORTABLE TO THE FOLLOWING STATES OF THE USA:
(Free Shipping)
Alabama、Arizona、Arkansas、California、Colorado、Connecticut、Delaware、Washington D.C.、Micronesia、Florida、Idaho、Illinois、Indiana、Iowa、Kansas、Kentucky、Louisiana、Maine、Maryland、Massachusetts、Michigan、Minnesota、Mississippi、Missouri、Montana、Nebraska、Nevada、New Hampshire、New Jersey、New Mexico、New York、North Carolina、North Dakota、State of Ohio、Oklahoma、Oregon、Pennsylvania、South Carolina、South Dakota、Tennessee、Texas、Utah、Vermont、Virginia、Washington、West Virginia、Wisconsin、Wyoming.
Following States of the USA are not available for shipping: the State of Alaska、The Territory of Guam、Hawaii State、The Republic of Palau、The Commonwealth of Puerto Rico、Rhode Island、The United States Virgin Islands、American Armed Forces、European Armed Forces、Pacific Armed Forces.
2. SUPPORTABLE SHIPPING COUNTRIES IN EUROPE:
Free shipping to the below 19 countries:
Denmark、Bulgaria、Hungary、Luxembourg、Austria、Germany、Italy、Norway、The Czech Republic、Monaco、Slovakia、Slovenia、
Belgium、France、Poland、Romania、 the Netherlands、Portugal、Spain.
For the shipping to other countries in Europe, please discuss with customer service for inquiring about the freight.
3. SHIPPING STATES OF AUSTRALIA:
The Following Areas of Australia will have extra $20.00 shipping freight:
Australian Capital Territory、New South Wales、South Australia、Tasmania、Victoria
The Following Areas of Australia will have extra $30.00 shipping freight:
Western Australia、Queensland.
The Following Areas of Australia will have extra $40.00 shipping freight:
Northern Territory
Q. What if I inputted the wrong shipping address?
A: Customers are taking responsibility for the declaration of the shipping address. Your parcel will be sent to the address which is the same as per the information filled in the order details.
If you used the wrong address, please inform us before shipping, and we can correct the shipping address.
We are not taking responsibility for the loss of the parcel due to the wrong shipping address offered by the customer.
Please read the exchange & return policy carefully before placing the order with SteAnny. It's very important since the large parcel of baby stroller's shipping costs high expenses!
Threshold For Exchange and Return
Within 15 days after receipt of the parcel(counting starts from the date of delivery), customers may submit an exchange or return back to SteAnny.
SteAnny doesn't accept any exchange or return requests for any parcels which are delivered after 15 days.
Exchange Policy
Customers are eligible to submit an exchange request under the conditions below:
Within 15 days of the receipt of the parcel.
Products should be unused and brand new as per the status of the arrival of the parcel.
The packing carton should be in the same condition as how it arrived.
We accept the exchange of products upon the above conditions, When you decide to give an exchange please send us an email at
[email protected]
, attach 1-2 photos showing the condition of the parcel, and remind us of your order number.
After reviewing your email, we will send an airway bill to eligible return requests by email. Please send the parcel back by using the air waybill.
Customers need to pay the shipping fees for the shipping freight for the second time delivery of the exchange parcel.
If the exchange requests are not eligible, we will refuse and notify customers by email with detailed explanations.
Return Policy
When you decide to give a return for the products, please send us an email at [email protected], attach 2-3 photos showing the condition of the parcels and products, and remind us of your order number.
SteAnny will review the product conditions and respond back by email within 24-48 hours.
Eligible situations for returning:
Customers receive the wrong product which is different from the ordered items. This is a rare situation but it might occur.
Receive products in bad condition, i.e. scratched parts, ruined parts, stains in a large area, or other severe conditions that cause non-functional of products.
SteAnny will send air waybill to customers and the customer doesn't have to pay any return charges. A full refund will be arranged after we receive the return parcel and check the products by confirming that no parts are lost.
Upon receipt of the return air waybill, customers need to pack the parcel and send the parcel to your close office of shipping agents. The freight was prepaid already, customers won't bear any return fees in this situation.
Customers are allowed to return the parcel without any special reason. You may submit a return within 15 days after the arrival of the parcel(counting starts from the date of delivery).
Please send us an email at [email protected], attach 2-3 photos showing the condition of the parcels and products, and remind us of your order number. In this situation, customers need to pay for the shipping and return of parcels.
Make sure that all parts brochures and tags are sent together inside the parcel, please!
SteAnny only accepts return parcels that meet the above clauses. We don't accept any returns for worn, used products. We will reject the returns if customers are unable to prove that.
Notice before return or exchange request submission:
Please note that the stroller products are packed in high-volume cartons. It's inevitable for the crushing in delivery. Thus tiny scratching and crease might happen. These shouldn't be recognized as the flaws of the products.
Important notice:
Do not send any parcels without acquiring our airway bill in advance.
Do not send parcels back to the address of the parcel sent from. It's an address that is unable to accept any parcels.

Should you have any other doubt, please feel free to contact us by email: [email protected].
Last update: 5th, Sep. 2023
SteAnny Baby Shop